... So, I've been thinking about mine...
I found last years list which I think I posted up on scrappad or somewhere, and guess what - this years is still pretty much the same! Looking back, I feel I failed at damn near everything - well I must have if I still need to set all those goals again, eh? Perhaps I just wanted too much change... Or maybe my expectations were simply too high?
Anyway, I will try
again
- nothing if not a trier, me... Lol!
I remember the
year before's
too - I made a little playing card book full of them for Scrapbook Magic.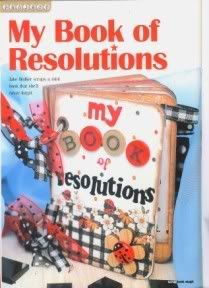 I'll have to oik it out of the drawer and have a flick through... But what's the betting we already know what's in there.... :-)!! Heehee!
I'll leave you with a clever little quote I like on the subject:
A New Year's resolution is something that goes
in one year and out the other.
~Author Unknown
Oh... how very me!